Wheels4Me London
Welcome to Wheels4Me London: an inclusive cycle hire scheme pilot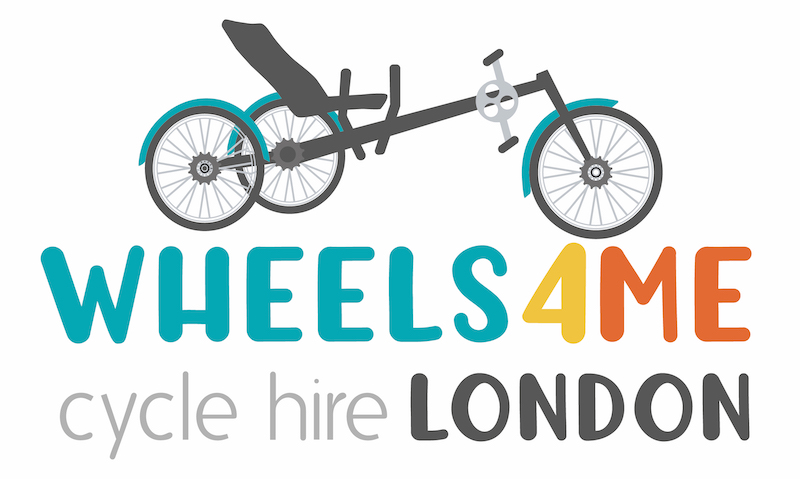 Welcome
Wheels for Wellbeing is delighted to be piloting an inclusive cycle hire scheme for London with partner Bikeworks
Go straight to the booking page.
We have known for some time that Disabled people, and people with long term health conditions, have not had the opportunities to cycle despite cycling being easier than walking for many. For some, cycles are mobility aids. Most Disabled people don't even know that there are cycles which they can ride, should bicycles not be possible for them. But such non-standard cycles are very expensive and the highways infrastructure is not designed for them. These major barriers are all evidenced by our latest research.
During the pandemic, many Disabled people have been shielding and the safety of public transport has been a concern. Motor traffic has decreased during lockdowns and temporary cycle infrastructure introduced which has brought many people to cycling who would never have considered it before.
However, most Disabled people have not been able to join in with the cycling renaissance. In fact, there has been less cycling as Covid-19 restricts access to inclusive cycling hub sessions and although London's cycle hire scheme has been running for over a decade, non-standard cycles have not been available.
We are so pleased then that Sport England has supported us through their 'Open Call for Innovative Solutions' programme to enable us to pilot our own bespoke hire scheme. This builds on the nearly 30 years of experience which Wheels for Wellbeing and Bikeworks have gained in running inclusive cycle sessions. At this initial stage of the pilot, Wheels for Wellbeing are running the Wheels4Me cycle hire scheme but Bikeworks, our north London partner, will be joining us shortly.
The future is also looking more positive for highways infrastructure. Changes to new permanent cycling infrastructure will support the use of adaptive cycles as a result of the Government's Gear Change and latest highways guidance LTN 1/20, influenced by our Guide to Inclusive Cycling.
So we encourage people to try out cycling if they've not done it before and to see for themselves what a difference it can make to their lives.
To hire your cycle, you can head over to the booking page.