Tony … and Felix
At the start of 2021, we launched Wheels4Me, a cycle hire scheme with the long-term ambition of allowing giving all Londoners the opportunity to hire an adapted cycle. Tony recently hired a Raleigh Felix, an e-bike which recently joined the Wheels for Wellbeing fleet thanks to some Sport England and Lottery funding. Meet the […]
At the start of 2021, we launched Wheels4Me, a cycle hire scheme with the long-term ambition of allowing giving all Londoners the opportunity to hire an adapted cycle.
Tony recently hired a Raleigh Felix, an e-bike which recently joined the Wheels for Wellbeing fleet thanks to some Sport England and Lottery funding.
Meet the instructor: Tony … and Felix
How long have you been a cycling instructor with Wheels for Wellbeing?
At least 10 years! I was with Cycling For All before Wheels For Wellbeing took over, working with Jim who is a volunteer at Croydon Sports Arena. Jim's the only person at Wheels who has been here longer than me!
I came along as a volunteer after doing a cycling instructor training course – I wanted to help people and it was easy to see the benefits of cycling. It's so good for cardiovascular health, mental health.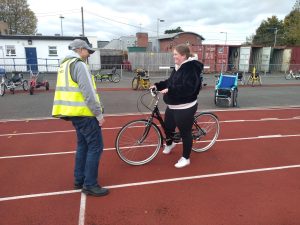 I was amazed at the number and variety of bikes Wheels had even back then, and I could see the potential for helping people to get cycling. It's so nice to see someone get on a bike for the first time and see the smile on their face when they start riding.
People often say they can't cycle but 99% of the time that's rubbish! Anyone can cycle in some form or other.
Of course we have a lot more bikes and trikes now, and the health benefits are especially important right now in time of Covid because you're out in the fresh air.
What made you decide to go electric?
Mainly because of my age, I'm getting older need help getting up hills. I used to run marathons but the knees aren't so good any more. So I gave up running and started cycling. I tried an electric bike and loved it. It allows me to carry on cycling without all the hard work. So I get all the pleasure and the exercise without the strain, I hate hills! They're also really good fun! So when my other e-bike was damaged, I rented this one until it could be fixed.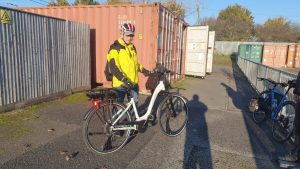 How long is your commute?
I cycle from Thornton Heath to Hyde Park Corner which is roughly 9 miles. I don't do it every day but at the moment the it's four times a week- it depends on the weather. And of course I cycle to the Sports Arena once a week.
If I didn't have the e-bike I'd take the train and a bus and then walk the rest of the way to work. But the benefit of cycling is that I'm in the open air and not in contact with people on crowded trains and buses. Plus I've read somewhere that if you cycle on a regular basis your fitness levels with match someone ten years younger!
Studies have shown that regular cyclists enjoy the general health of someone approximately 10 years younger!
What advice would you give to anyone thinking about hiring or buy an e-bike or trike?
The first thing is to think about what you want to use the bike for. It's easy to get carried away in a bike shop, looking at shiny new mountain bikes, but that's not what you might need in the city. First think about the frame, the best thing about the Felix is that it is a "step through" bike so you don't have to kick your leg over the crossbar. A good city bike will already have the accessories you need: lights, a rack, good tyres for tarmac and also potholes.
If you would like to know more about hiring an e-bike, please visit https://cyclingforall.org/wheels4me-london-cycle-hire/
or email wheels4me@cyclingforall.org.
Deb's story
"You won't ever be able to ride your bicycle again, but you should be grateful you can walk!".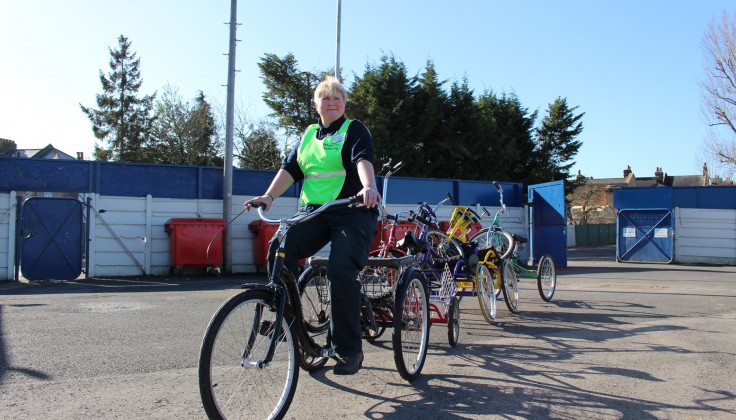 Meet Deb Garbutt. Deb is a living testament to the fact that cycling can help to aid recovery.Since she was a child, Deb had been a keen cyclist. But one day she received some sobering news from her Orthopaedic surgeon (after she had her second knee replaced).He stated:"You won't ever be able to ride your bicycle again, but you should be grateful you can walk!"That statement threw Deb into a state of depression. She had always ridden a bike, even when it caused her pain. Cycling was an important part of her life. Then Deb came across Wheels for Wellbeing.She started going along to sessions. On her first ride, a kind gentleman agreed to take her around the track on a side-by-side tandem. This allowed Deb to take all the pressure off her legs and just allow them to go through the cycling movements.As weeks went by, Deb took more of an active role at WfW's cycling sessions, until the time came when she was able to ride a two-wheeler by herself, two years later.Since that day, her life has changed for the better. She started volunteering for WfW, has ridden in a number of different women only rides, including Cycletta (40km) and Breeze rides (31 miles). And she's even a trained Breeze Champion so she can lead rides of up to eight women by herself.
"If it wasn't for Wheels for Wellbeing helping me back into cycling, I know I wouldn't have the same quality of life that I have now."
Deb is now an ambassador, representing WFW and giving talks about cycling at community events.She qualified as a cycle instructor in February 2014, and is working at WFW drop-in sessions. She also regularly delivers outreach cycling sessions at special needs schools.